XL Mixed Organic Ginger Shots Package
24 cold-pressed ginger shots · 2 varieties
Raw Quality · Cold Pressed · Never Heated
Regular price

58,00 €

Sale price

54,00 €

Unit price

2,50 €

per

100ml

Organic ginger shots for every day! With the large XL mixed package, refreshing raw food enjoyment awaits you in your fridge every day. Shake, drink and feel good. Treat yourself to a mini break and gather energy with the little helpers for everything that lies ahead of you. The pack of 24 shots contains the varieties Boost & Protect and Smile & Shine - 12 x 60ml of each variety. Two shots daily.
that includes this juice cleanse
INGREDIENTS
NUTRITIONAL FACTS
ADDITIONAL PRODUCT INFORMATION
Juice cleanse - fasting story
Saftkur - Guide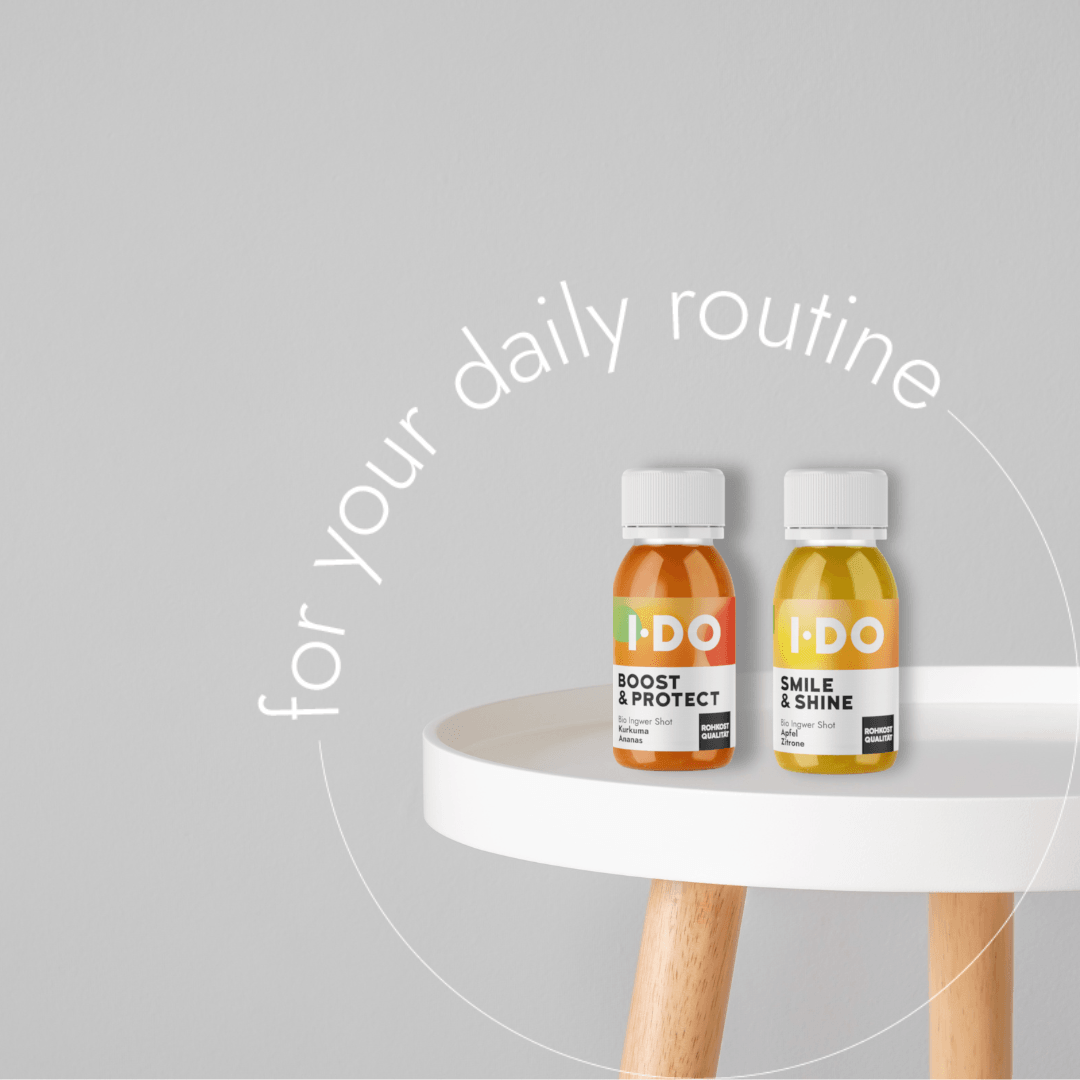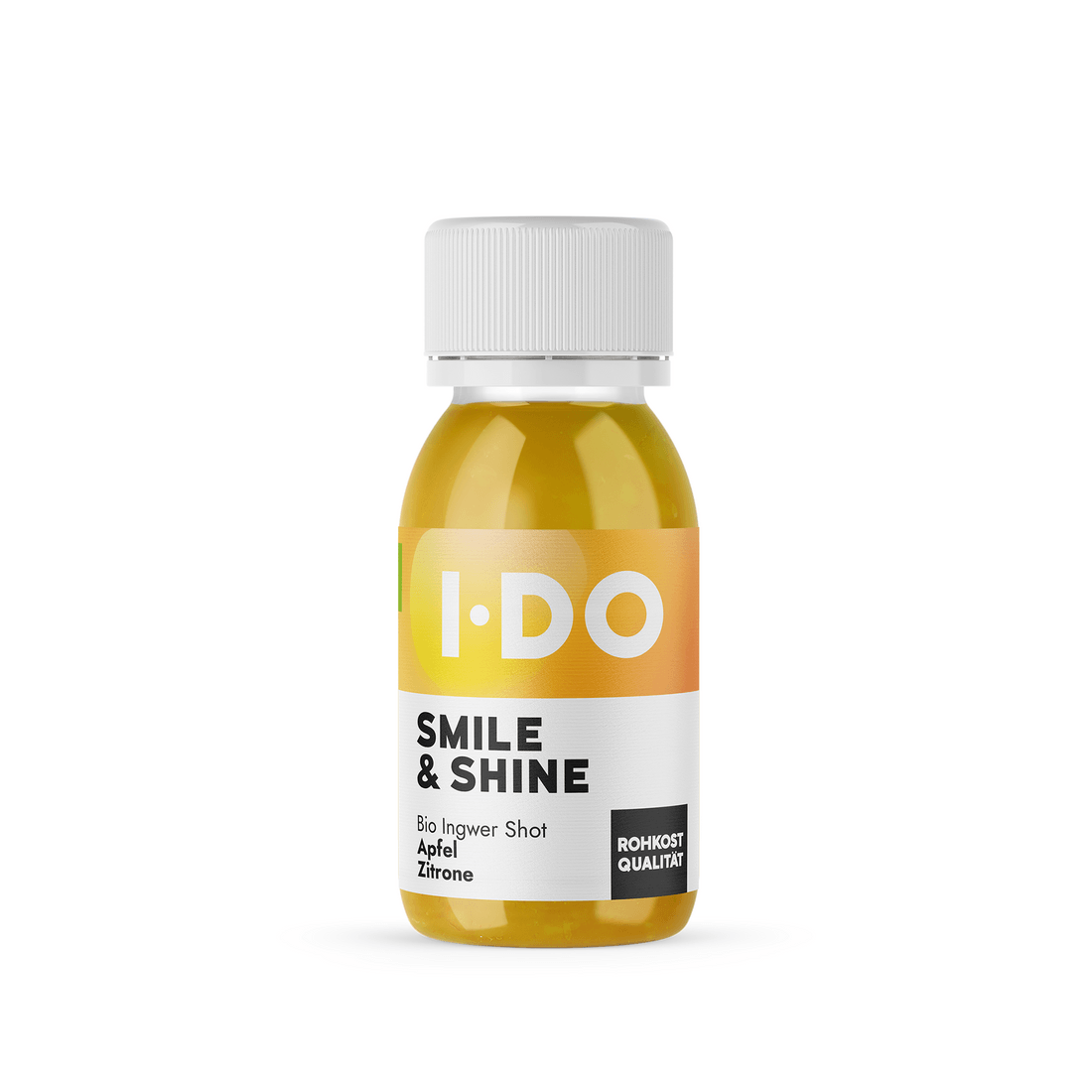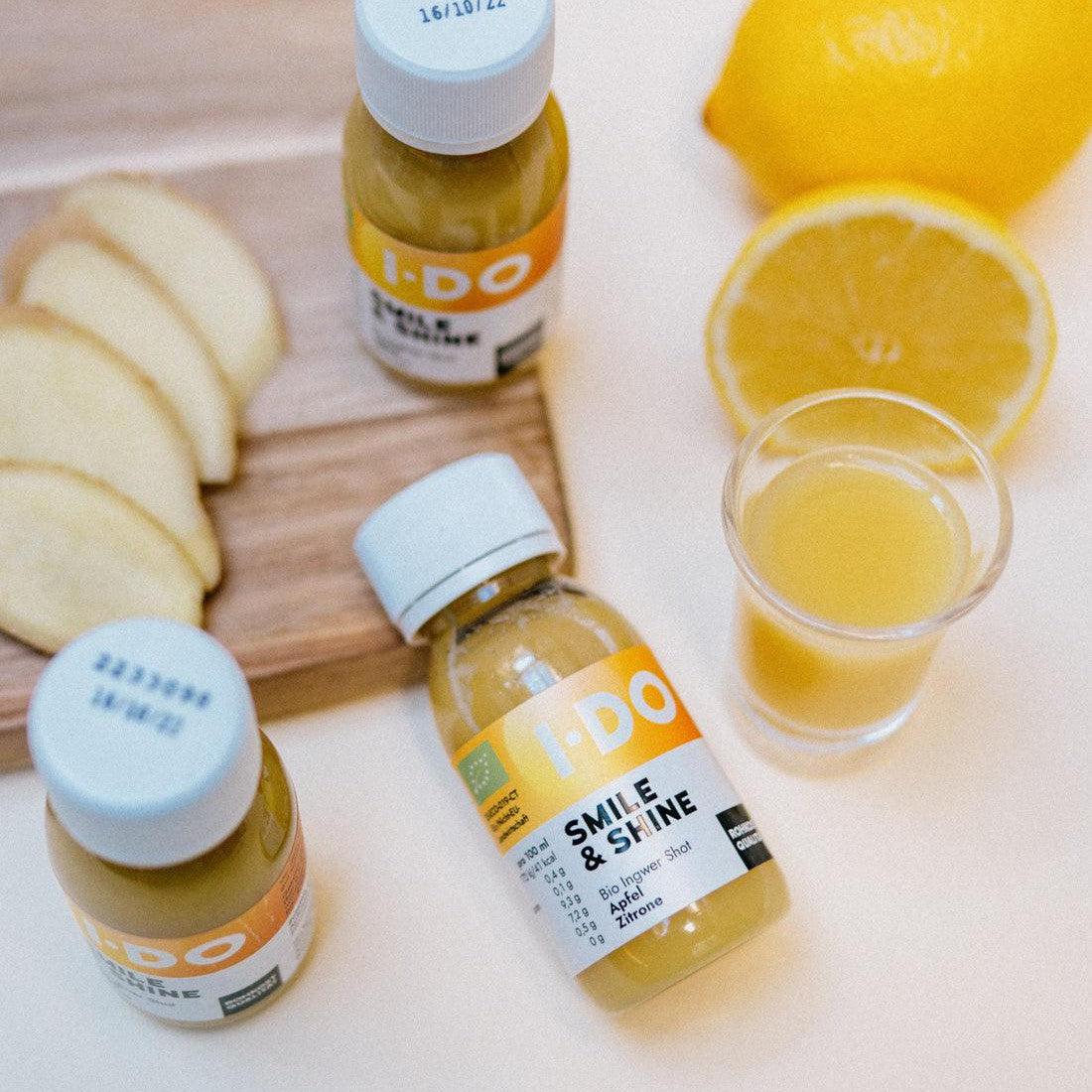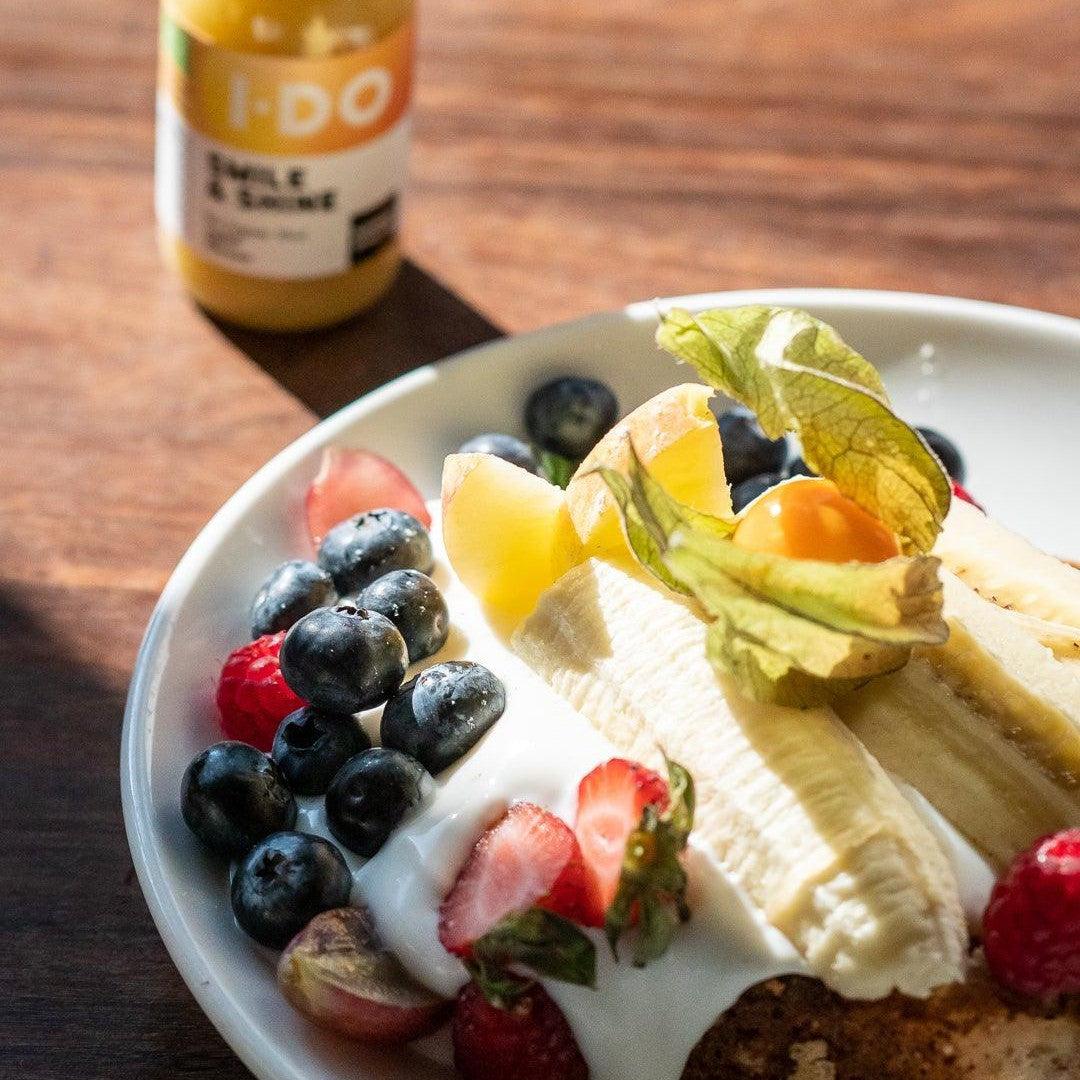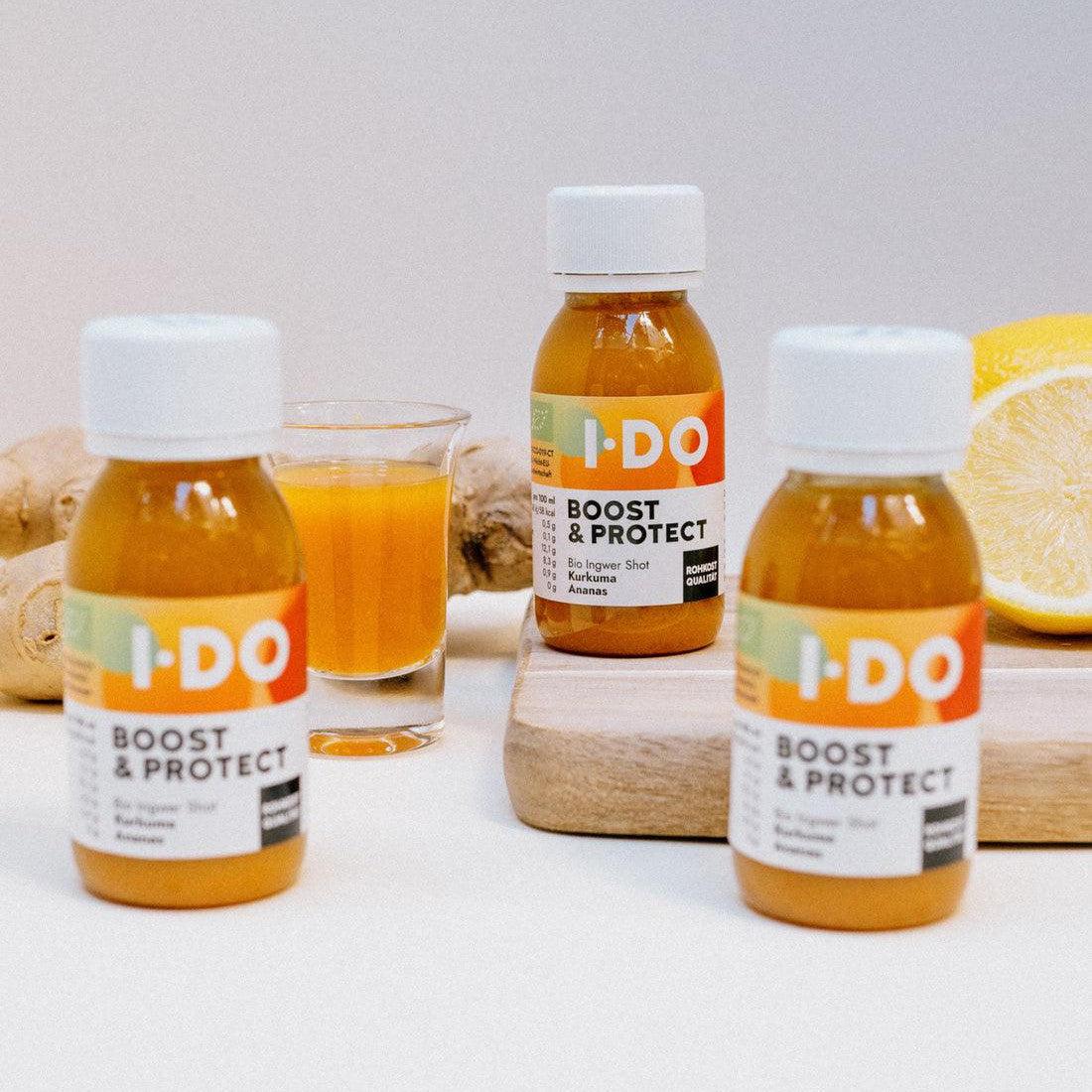 The ginger root with its pleasantly hot juice is now part of the regular repertoire at I·DO. We use the intensely tasting root of the ginger plant for our organic raw vegetable juices. Ginger is mainly at home in subtropical areas and their plateaus. In Europe, the ginger root has been known and loved as a food and medicine since the 9th century.
At first glance, it is quite similar to ginger, but the difference between turmeric and turmeric quickly becomes clear after cutting open: Because turmeric is known like no other root for its bright orange color, which has even been used to color monks' robes in Southeast Asia for many centuries. However, the root is by far not only suitable as a coloring agent. In Ayurvedic medicine, the small miracle cure has become indispensable due to its many positive properties and is considered there as "the spice of life". Turmeric is also gaining in importance in Western countries: Search queries for the English translation "tumeric", for example, have increased by more than 300% in the last five years.
One of the most popular tropical fruits. Cute and beautiful to look at, pineapples will never go out of style - and rightly so. Also known as the "Queen of Fruits" because of the crown of leaves, the pineapple probably originated in Brazil and Paraguay and has taken Europe by storm since its discovery in the 16th century. The sweet, aromatic flesh of the fruit is hidden under a prickly skin and is ideal as a raw food snack, for desserts and, of course, for freshly squeezed juice.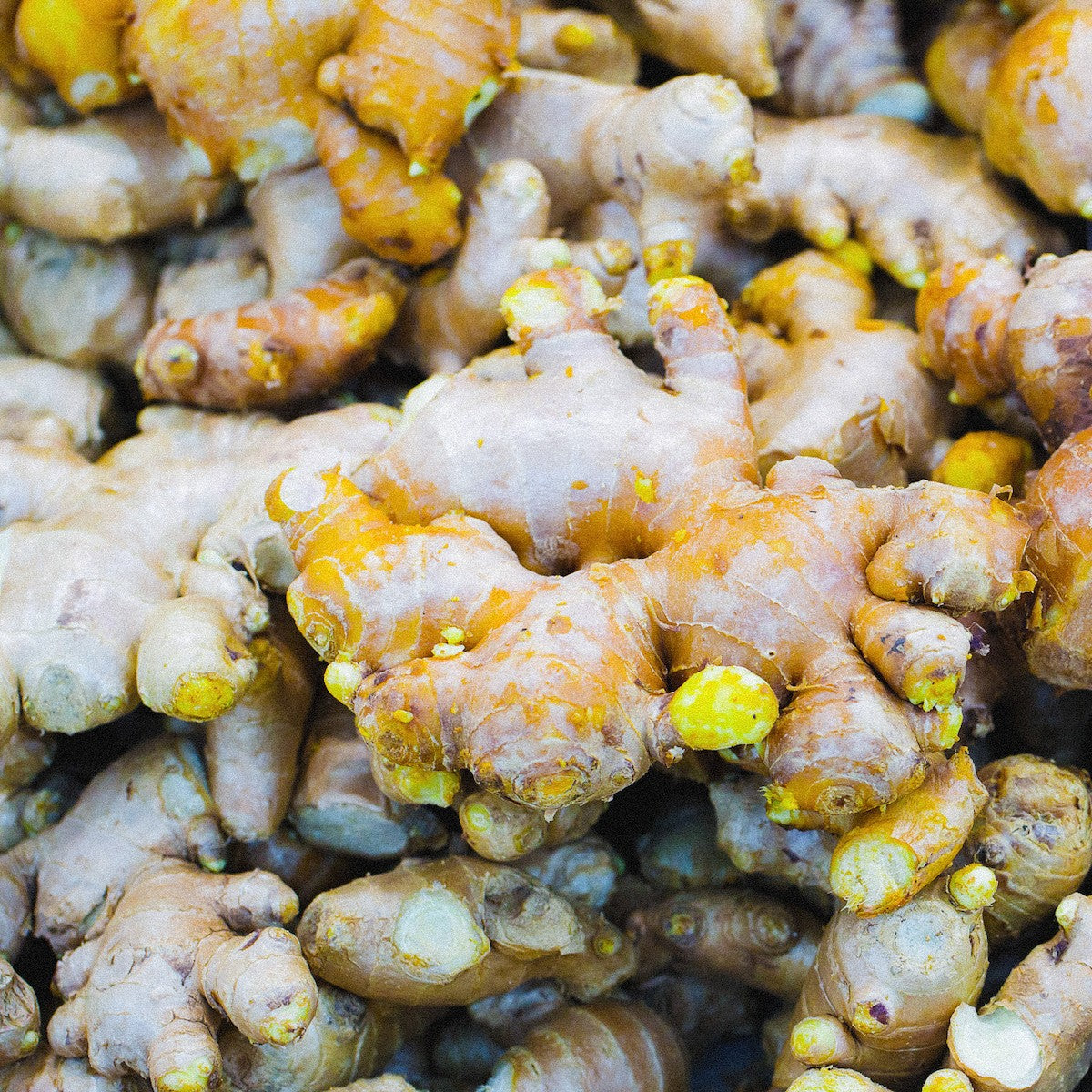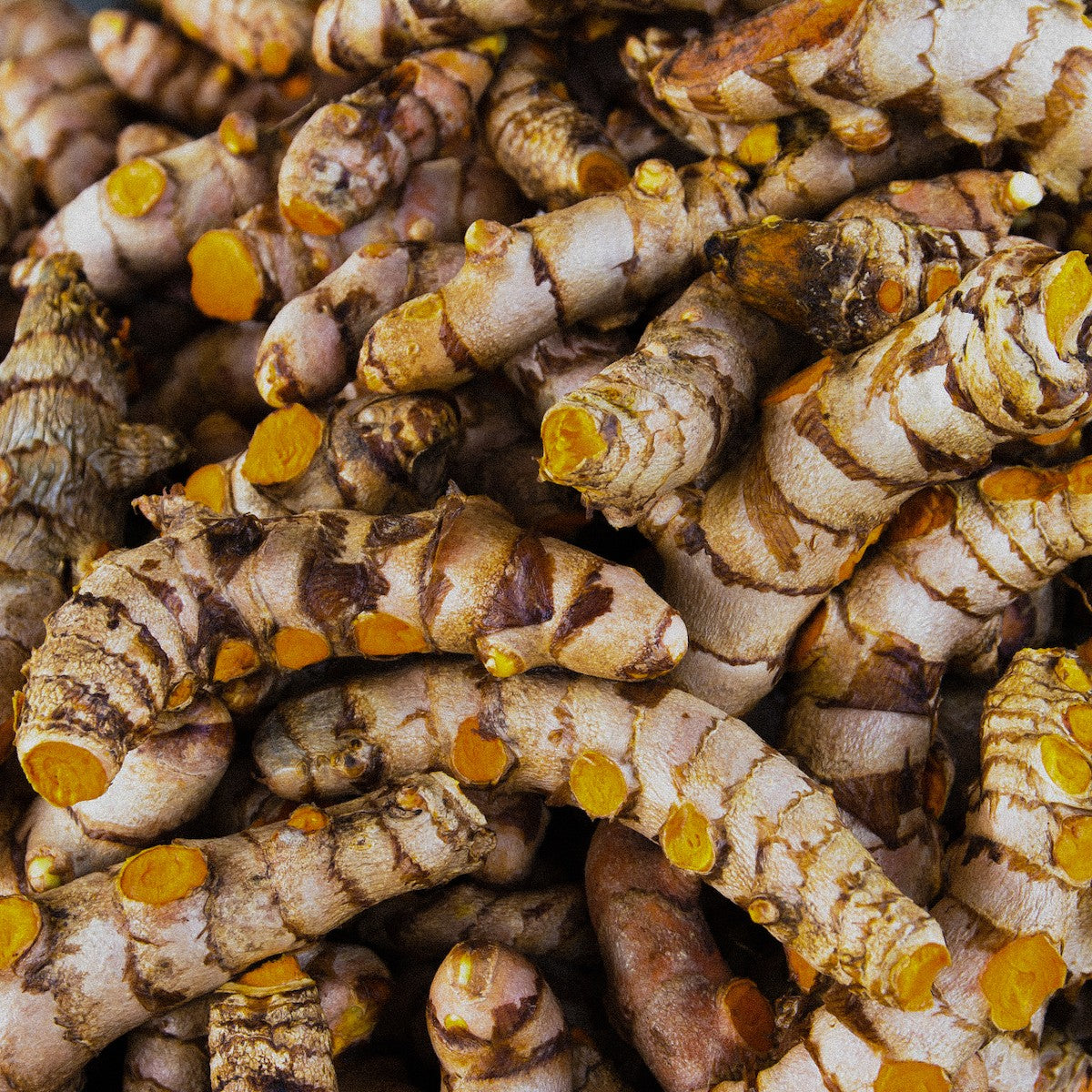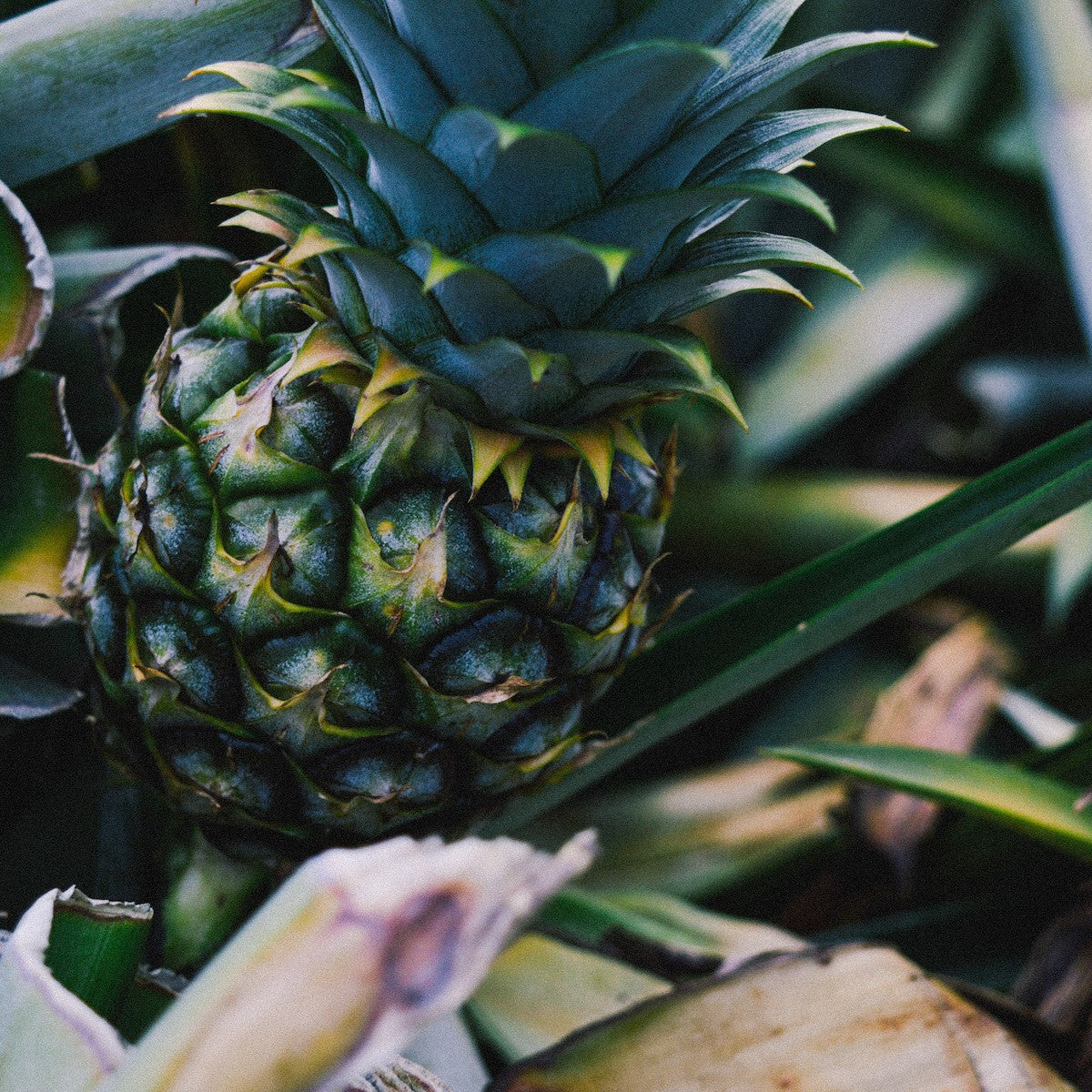 Why I DO ?
COLD-PRESSED

We press our juices cold, ie no heat is used in our production. In this way, all heat-sensitive substances such as vitamins, roughage and other nutrients are retained during pressing.

ORGANIC BY CONVICTION

100% organic. Since day one, we have attached great importance to the fact that all the ingredients for our I·DO products are produced in a biologically and ecologically harmless manner. In addition, our priority is sustainable production.

FRESH & STILL DURABLE

Cold-pressed, but still pasteurized? That's out of the question for us! At I·DO we work with ultra high pressure to preserve our juices.


JUICE CURE GUIDE

Our juice cleanse comes with instructions and a comprehensive juice cleanse app, which I will accompany you step by step during your fasting.

SIMPLE & TIME SAVING

Juice fasting is effortless and can be done by everyone. No time-consuming shopping for fruit or pressing the juice yourself at home is necessary.
Treue zahlt sich aus – unser Treueprogramm
Registriere dich jetzt für unser Treueprogramm, indem du ein Konto bei uns erstellst, und profitiere direkt von zahlreichen Vorteilen.
Freue dich bei jedem Einkauf auf exklusive Angebote, wie Gratislieferungen oder Überraschungssäfte. Nach deiner fünften Bestellung erhältst du zudem einen lebenslangen Rabatt von 10% auf unser gesamtes Sortiment – Teil der I·DO-Familie zu sein, zahlt sich aus!
jetzt registrieren
FAQs
What is I DO?

Our mission is to enable you to live a healthier, longer and more sustainable life with high-quality organic juices and foods.
As a specialized juice manufacturer from Munich, we have been concentrating on special organic juice creations in raw food quality since our foundation in 2014.
What makes I DO special?

I·DO organic juices and ginger shots are ultra-fresh, 100% organic and never heated. The fruit and vegetables in our premium raw food products are freshly harvested and pressed every week. Most of the ingredients are grown exclusively for us in controlled organic quality. Whenever possible, we work with local farmers and cooperatives in the immediate vicinity of our production facility in Spain. Short distances and small batches ensure excellent product quality and the smallest possible ecological footprint.

» More about raw food quality
How is it delivered?

Always chilled by refrigerated parcel. Your parcel will usually arrive within two to four working days.

» Shipping information
How much is the shipping?

The shipping and packaging costs depend on the parcel weight and delivery location. There is a practical shipping costs calculator in the shopping cart.

» Shipping information
How long do I·DO organic juices keep?

The I·DO organic juices are preserved using the HPP process. As a rule, the products can be kept for several weeks - but at least 10 days - after leaving the warehouse.

» To the FAQ
Where can I return the deposit?

The bottles made from recycled PET are part of the deposit system. You can return them throughout Germany at any supermarket or point of sale with other deposit products.

» Deposit system