With an "I·DO juice treatment"...
...give your body and your digestion a break.
You decide for yourself how many days you want to fast and
select the appropriate juice cleanse package.
Our most popular are the Easy Bio 3 day and the Bio Balance 5 day juice treatment .
COLD-PRESSED

We press our juices cold, ie no heat is used in our production. In this way, all heat-sensitive substances such as vitamins, fibers and other nutrients are retained during pressing.

ORGANIC BY CONVICTION

100% organic. Since day one, we have attached great importance to the fact that all the ingredients for our I·DO products are produced in a biologically and ecologically harmless manner. In addition, our priority is sustainable production.

FRESH & STILL DURABLE

Cold-pressed, but still pasteurized? That's out of the question for us! At I·DO we work with ultra high pressure to preserve our juices.

JUICE CURE GUIDE

Our juice cleanse comes with instructions and a comprehensive juice cleanse app that accompanies you step by step in your fasting.

SIMPLE & TIME SAVING

Juice fasting is effortless and can be done by everyone. No time-consuming shopping for fruit or pressing the juice yourself at home is necessary.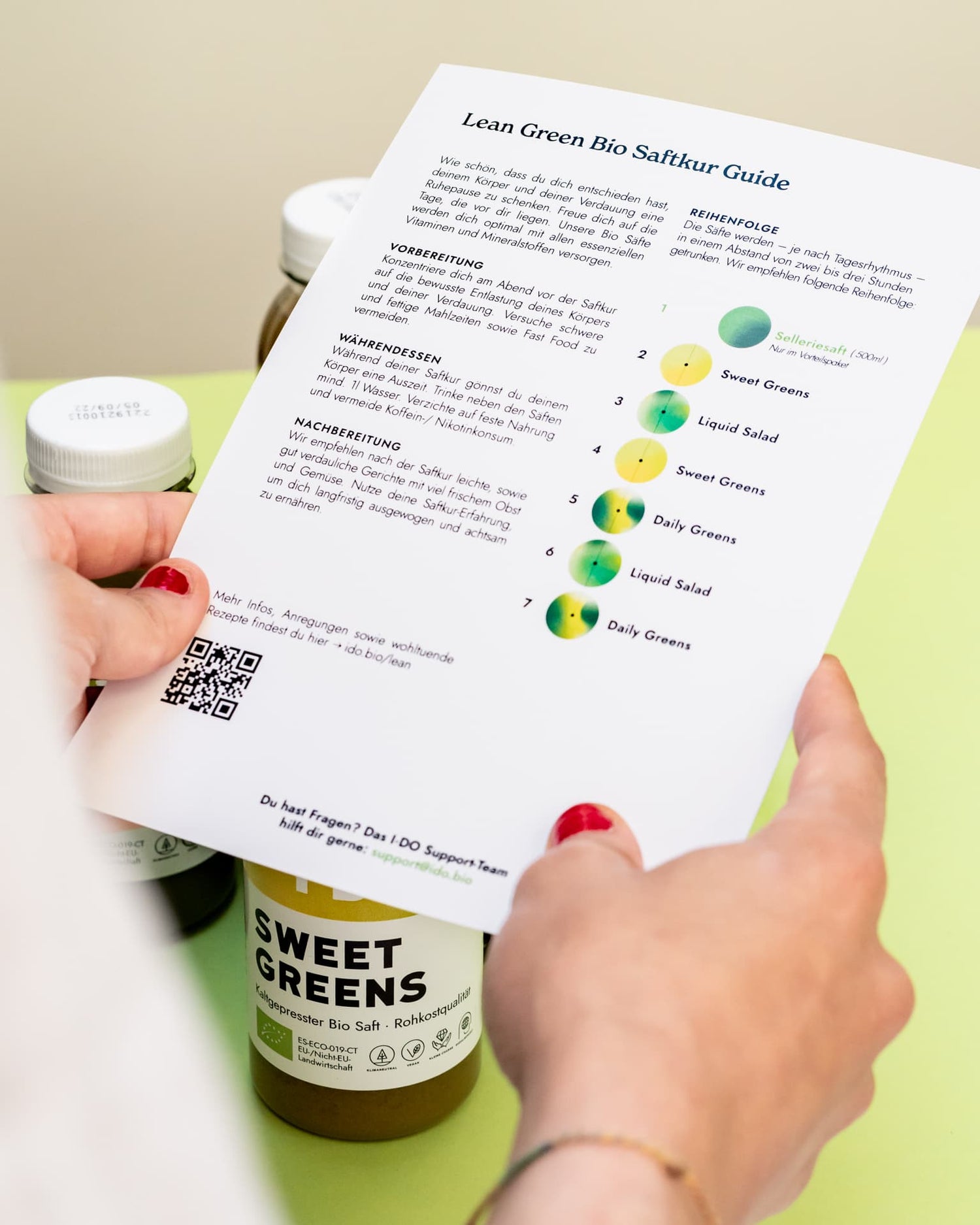 7 reasons for an I·DO organic juice cleanse
Relief of body and intestines
Reset to end annoying eating habits
Strengthens your immune system
Feel good in your own body again
Helps reduce stress
Has a positive effect on the microbiome (intestinal flora)
Get to know your feelings of hunger and satiety anew
I DO organic juice cleanse
Start your juice cleanse experience now and choose the I·DO juice cleanse that suits you best. Taste and quality are waiting for you!
The juice cure experience confirmed throughout Germany
I think it's a wonderful idea to lose a few annoying pounds. The flavors are really very pleasant to drink.

Barbara P
I have a five month old son who I am currently exclusively breastfeeding. I was therefore unable to follow the instructions for the juice cleanse, but I was very enthusiastic about integrating the ginger shots and the juices into my daily vegan diet. I'm a big fan and will definitely be ordering the next batch soon. I find it particularly practical that you can take the juices with you to the playground and family outings, pack a few nuts and have something healthy with you for in between meals without any effort!

Hannah H
I'm in the process of fasting with this juice cleanse. The juices are just great! You can enjoy them all, my two favorites are SWEET GREENS and PINEAPPLE PASSION. Since I intend to fast for a little longer, I have ordered more juices. (I can also recommend the organic ginger turmeric shot in the 3 l box first thing in the morning).

Heidrun B.
These delicious and high-quality juices are simply wonderful and rich. I don't feel hungry and they give me strength and energy for the day. Thanks to the team

Simone B
I am very satisfied with the product and the customer support. Friendly, professionals and accommodating. The juice is of the best quality, almost like it's homemade! Always my pleasure. Luisa Mendez just great on the phone. Thanks very much.

Eric W
Great juices. Delivery to Austria also works very well. Even in the warm season.

Jana R
Absolutely satisfied. The 6 day juice cleanse was a challenge for the nerves, especially for the people around me, but I feel great and will definitely do it again!!!

Sarah R
Super nice and friendly staff and delicious drinks.

Eric E
Everything great. Delicious. Very nice employee!!!

Susie R
I·DO organic juice cures & juices are known from:
WHAT IS AN I·DO ORGANIC JUICE CLEANSE?

The I·DO organic juice cures combine cold-pressed, unpasteurized raw vegetable juices and wellness drinks into perfectly coordinated fasting plans. For several days you only eat raw fruit and vegetables in the form of juices. Depending on the daily rhythm, the six to nine servings are drunk at intervals of two to three hours.

Since no juice has been heated above 42 degrees, vitamins, minerals and trace elements are optimally preserved.

WHAT IS THE RIGHT I·DO BIO JUICE CURE DURATION?

We believe that a full juice cleanse starts at 5 days. However, there are also fasting programs from 3 days for beginners. If you already have experience with fasting, you can extend your cure up to 12 days. Simply select the juice cure duration that suits you and choose the desired delivery date for the juices. Best with a few days buffer to prepare.

The most popular variants are the Easy Bio 3-day juice cure and the Bio Balance 5-day juice cure .

Intermittent fasting (or intermittent fasting) is also possible with our juices. To do this, simply spread the fasting days over several weeks (e.g. always insert a juice fasting day on Fridays).

PREPARATION: DO YOU NEED TO CONSIDER THIS BEFORE THE I DO BIO JUICE TREATMENT?

Before you really get started, you will receive all the important information about your fasting cure as well as the link to the safcure app with further detailed tips and (including a link to the safcure app with detailed information).

While the package is well chilled on its way to you, you should slowly change your diet and start with heavy and greasy meals
waive.

If you do not specify an individual delivery time when ordering, your package will usually arrive after 2 to 4 working days.

PERFORM I·DO BIO JUICE CURE: HOW A FASTING CURE WORKS

Juice fasting with I·DO is suitable for everyone. Once the package has arrived, all you have to do is unpack the juices and store everything well in the fridge.

Now it can start.
During your juice cleanse you give your body a break and
completely avoid solid food. Drink depending on your daily rhythm
you the juices at an interval of two to three hours.

Additionally, provide yourself with at least one liter of water and/or tea per day. Detailed instructions including the order of the juices as well as lots of tips and information about juice fasting. You will receive a link after your order.

A juice cleanse is a very special experience. Look forward to a mindful time that is all yours.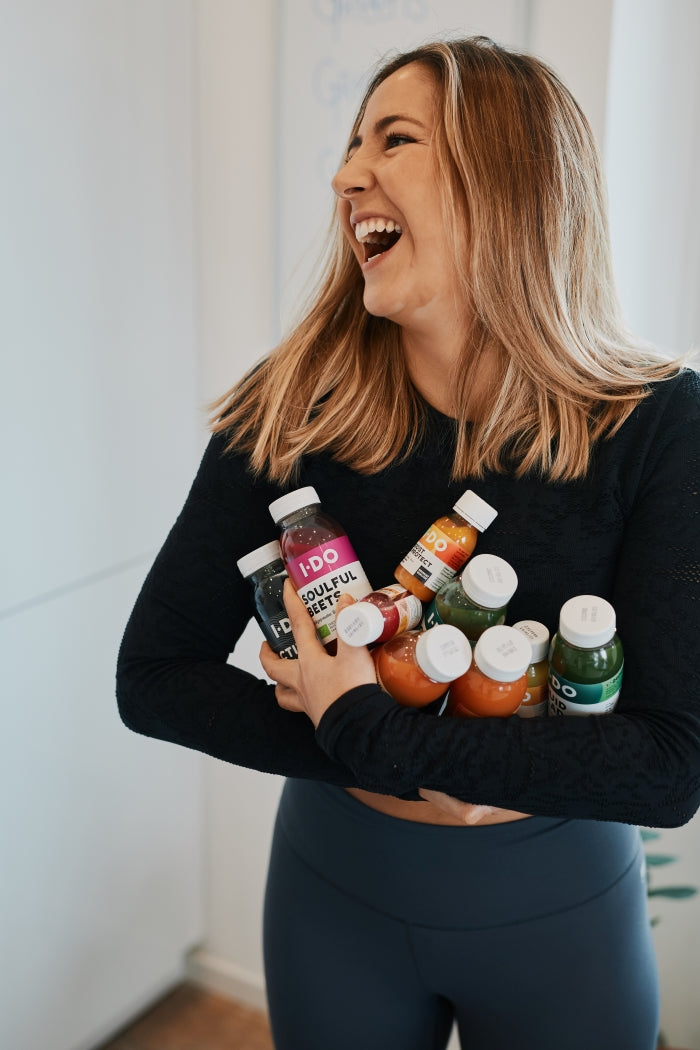 Do you have any questions or would you like to find out more about the I·DO organic juice cures?
We're here to help - our Support Center
is exactly the right place to go to answer all your questions about fasting with juice, chilled delivery and the world of I·DO.
Visit Support Center
We are also happy to be there for you personally.
I DO Support : support@ido.bio
I DO hotline (weekdays 9 a.m. to 2 p.m.): 0800/8880089 Free call from the German landline network. Austria : +49 89 95457041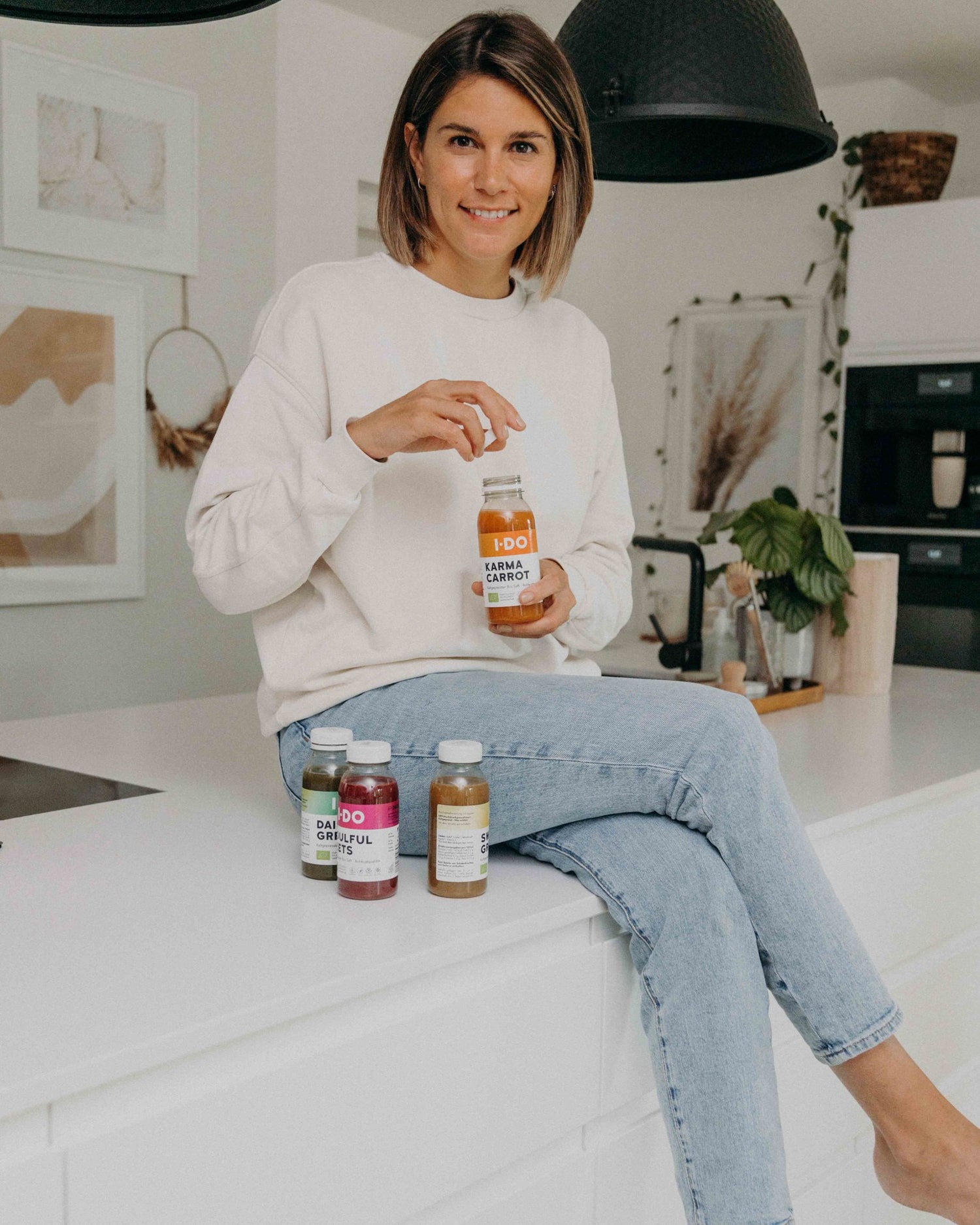 Why should you start an I·DO organic juice cleanse now?
Our everyday life can sometimes be quite exhausting. Stress at work, appointments with family, household chores that need to be done. In all the hustle and bustle, many of us forget to give the body what it really needs. We know very well that an unbalanced and unhealthy lifestyle can have a negative impact on many areas of life. Juice fasting is just right for you if you are looking for a new inner balance.
"A FASTING CURE CAN BE AN IMPULSE TO CHANGE YOUR LIFESTYLE AND IMPROVE YOUR EATING HABITS."
Fasting has long been deeply rooted in various cultures. If done correctly, it can have a positive effect on health and physical and mental balance. In Germany, the concept is mainly known under the term 'therapeutic fasting'.
In contrast to holistic fasting, with juice fasting you do not completely avoid food, but rather supply the body with nutrients and secondary plant substances with the help of special juices. Accordingly, fasting with this method is easier and also suitable for beginners.
You can find extensive information on the subject of fasting in our Fasting Guide : Fasting. Here we have clearly summarized everything on the subject of fasting, as well as helpful tips & tricks.